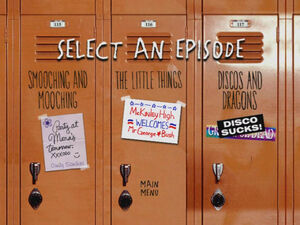 Freaks and Geeks has only a single Season, consisting of 18 episodes (each with a duration of about 45 minutes).
Structure
Each episode starts with a short opening scene, followed by the opening credits. Thereafter, the story of the corresponding episode develops. Finally, the ending credits are shown in white letters on a black screen.
Overview
The following list provides a short overview over the episodes. For further information, please refer to the articles on the individual episodes. The episodes are listed in the order of the chronology of the storyline, as indicated in the "The Complete Series DVD Episode Booklet".
No.
PC
Image
Title
Director(s)
Writer(s)
Original air date
Summary
1
100
Pilot
Jake Kasdan
Paul Feig
September 25, 1999
In 1980, a group of high school students face various social struggles. Wealthy "brain", Lindsay, wants to rebel, and begins hanging out with a bunch of slackers. The Geeks, including Lindsay's freshman brother, Sam, and his two friends, Bill and Neal, are targeted by a bully.
2
101
Beers and Weirs
Jake Kasdan
J. Elvis Weinstein, Judd Apatow
October 2, 1999
When Harold and Jean Weir go out of town for the weekend, Lindsay hosts a keg party. The Geeks, Sam, Bill, and Neal, are worried that the party-goers will get too rowdy, so they substitute a keg of non-alcoholic beer for the one the Freaks have on ice.
3
102
Tricks and Treats
Bryan Gordon
Paul Feig
October 30, 1999
Lindsay agrees to stay home, and hands out candy with her mom on Halloween night. However, when Lindsay gets an invite to go cruise around town with Nick, Daniel, and Kim, she ditches her mom to hang out with them. Sam, Bill, Neal, and Harris go trick or treating.
4
103
Kim Kelly Is My Friend
Lesli Linka Glatter
Mike White
September 5, 2000[1]
Kim invites Lindsay to dinner, explaining that she needs to introduce a nice friend to her parents. After Lindsay realizes what an abusive home Kim is living in, the two flee the scene in Kim's car. Sam is bullied by Karen Scarfolli, whose locker is next to his.
5
104
Tests and Breasts
Ken Kwapis
Bob Nickman
November 6, 1999
Lindsay agrees to tutor Daniel in algebra, but he doubts her effectiveness. Daniel manages to steal a test from his math teacher's office, and then asks Lindsay to help him fill in the answers. Sam, Neal and Bill begin sex education class.
6
105
I'm with the Band
Judd Apatow
Gabe Sachs & Jeff Judah
November 13, 1999
When Nick decides he's better than the others of his band, Lindsay encourages him to audition for a bigger band. When things don't go well in the audition, Lindsay is there to comfort Nick. Meanwhile, Sam, Bill, and Neal struggle with having to shower in gym class.
7
110
Carded and Discarded
Judd Apatow
Judd Apatow & Paul Feig
January 10, 2000
Sam, Neal, and Bill befriend a new student, but they soon fear of losing her to the popular crowd and try to win her over with a series of fun things they plan for her. Lindsay, Nick, Daniel, and Ken decide to get fake IDs, so they can see a hot local band perform at a bar.
8
106
Girlfriends and Boyfriends
Lesli Linka Glatter
Patty Lin & Paul Feig
January 17, 2000
Lindsay and Nick get more serious, and her parents give unwanted advice. Sam hopes to become lab partners with Cindy, but becomes jealous when Bill is named Cindy's lab partner, and he's paired up with Gordon Crisp.
9
107
We've Got Spirit
Danny Leiner
Mike White
January 24, 2000
Sam tries out to be the school's mascot, hoping to impress Cindy. Meanwhile, Daniel, Ken, and Kim suddenly become the basketball team's most rabid fans, following a series of run-ins with jocks from the rival school, Lincoln High.
10
108
The Diary
Ken Olin
Judd Apatow & Rebecca Kirshnerv
January 31, 2000
Lindsay's parents forbid her from hanging out with Kim, because they think she's a bad influence. Bill grows tired of being picked last for teams in baseball in P.E. class, and not being allowed to really participate. Bill decides to do something about it.
11
109
Looks and Books
Ken Kwapis
Paul Feig
February 7, 2000
A car accident results in Lindsay deciding to stop hanging out with her "Freak" friends. She decides to rejoin the Mathletes, and starts hanging out with Millie again. Sam adopts a new modern-hair style, in the hopes of impressing Cindy, and seeks out a new wardrobe.
12
111
The Garage Door
Bryan Gordon
Gabe Sachs & Jeff Judah & Patty Lin
March 13, 2000
Neal learns his father is cheating on his mother. Ken develops a crush on the tuba player in the school's marching band, and Lindsay helps set them up. Ken, Amy, Lindsay, Nick, Daniel, and Kim go to the laser dome to see a Pink Floyd laser show.
13
112
Chokin' and Tokin'
Miguel Arteta
Judd Apatow
March 20, 2000
When Bill talks about being allergic to peanuts in class, Alan White tries to prove he's lying but Bill ends up in the hospital after an allergic reaction. Lindsay smokes weed for the first time. She was supposed to babysit and calls Millie for help.
14
114
Dead Dogs and Gym Teachers
Judd Apatow
Judd Apatow & Bob Nickman
October 10, 2000[1]
Lindsay tries to convince Harold to let her join her friends at a Who concert. Kim and Lindsay accidentally run over Millie's dog. Lindsay wants to tell Millie the truth, but Kim does not. Nick teaches himself to play guitar, and writes a love ballad for Lindsay.
15
115
Noshing and Moshing
Jake Kasdan
J. Elvis Weinstein
October 17, 2000[1]
Neal wrestles with the dilemma of whether or not to tell his mother about his father's affair. Lindsay is given detention, after coming to the aid of a girl being attacked by a boy. At a party, Lindsay becomes attracted to Neal's older brother Barry, who is home in Michigan from his college at Wiscousin.
16
116
Smooching and Mooching
Jake Kasdan
Steve Bannos
July 8, 2000[2]
After fighting with his father, Nick moves out, and to Lindsay's surprise, he begins staying with the Weirs. Cindy tells Bill that she has a crush on Sam. Cindy asks Bill to convince Sam to invite her to a party.
17
117
The Little Things
Jake Kasdan
Jon Kasdan & Judd Apatow & Mike White
July 8, 2000[2]
Sam discovers that life as Cindy's boyfriend is not nearly as exciting as he had imagined. Ken's girlfriend, Amy, confesses a shocking secret, putting Ken in an awkward situation. Lindsay struggles with asking Vice President, George H. W. Bush, a question during a school assembly.
18
113
Discos and Dragons
Paul Feig
Paul Feig
July 8, 2000[2]
Daniel is sentenced to audio/visual class, as punishment for attempting to pull the fire alarm. Lindsay is accepted to a two-week academic summit, but isn't excited and isn't sure about going. Nick has a new girlfriend, and takes up disco dancing.
References
↑ 1.0 1.1 1.2

The episodes 4, 14, and 15 were not initially aired by NBC, but only during the re-airing at Fox
External Links